---
Is back to school season for most Northern Virginia homes. Everyone is getting back from summer vacations with an urgency to "get organized." These thoughts often come with questions on how to add features that can make life easier on weeks like this in the future - you know..."next year I'll be ready!" kind of thought. We've created a visual check list with ideas for your next renovation project or custom home. To help you get ready now and for next year.
---
Organizing Cubbies / Mudroom

AV Architects + Builders - mudroom for an addition in Vienna, VA

This Northern Virginia home addition has a great feature, helpful for the change in season and for being organized in the new school year. These cubbies keep jackets, backpacks and all sports' items in the right place and ready to be picked up on the way out.

Study friendly spaces
Adding areas for kids to help them be comfortable when they study is important, and so it is to make studying fun for them. After four children, I learned that study habits will grow in areas where children feel happy and have fun doing their chores.
Built in niches


AV Architects + Builders addition in Northern Virginia.

The built in niches that you see above helps with school items or books. No need to purchase more furniture to hold school items! Remove furniture clutter from with these wall built in cubbyholes.


AV Architects + Builders addition in Vienna, VA
Reading nooks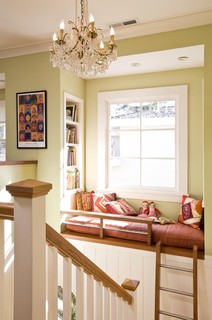 AV Architects + Builders farm house addition in Great Falls, VA
A reading area right where things are happening makes life easy for children and mothers. Kids can read with natural light in a comfortable relaxing place when you add reading nooks in highly used areas.
Mothers are constantly juggling with extracurricular activities, making dinner and getting kids to bed. A center island can be very convenient to do their school assignments, especially for the little ones who still need some help. Multitasking is always mothers' specialty, but there's no need to make it even harder by having to run around the house to check up on school chores. Design functional areas in your house that suit your needs.
Closets Space

AV Architects + Builders addition in Vienna, VA
Who knows what's behind those doors! With enough closet space for children to take responsibility of their own room, you may be lucky to close the doors and keep the mess to one space. Keeping clutter out of sight is one key for your peace of mind. Even if it may get scary to open those doors once in a while!
---
In your next project, build around your needs. That's what 360 Home Living is about!
If kids are part of your life, we can tell you more about how to design/build your dream house with your kids in mind.